gocek.org's 25 Recorded Music Milestones
©2016, Gary Gocek,
https://www.gocek.org/
,
@garygocek
,
gary@gocek.org
I ripped all my CDs and acknowledge some favorites.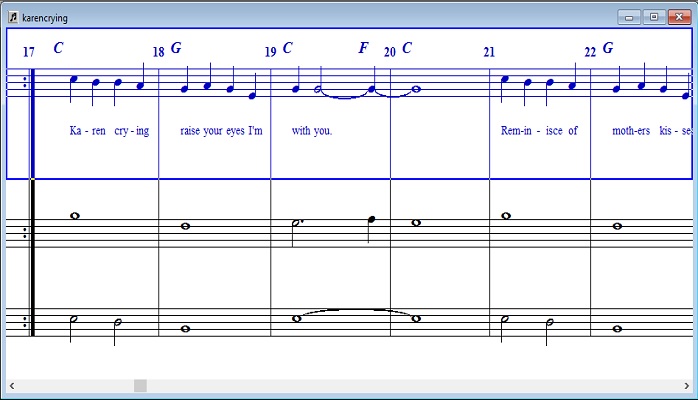 For years, our TV and sound equipment held a place of honor in large pieces of furniture, but when TVs became thin and wide, we switched to a small cart under the wall-mount. But, my lovely wife eventually tired of the cart's simplicity and acquired a slightly larger shelf unit. She was excited that the plastic CD towers could be removed and the CDs lined up on the shelves. I complained to my adult sons that this seemed like so much busy work, and they reminded me it was 2016 and I needed to rip all the CDs and stick them in the basement. Well, this became my raison d'etre for the next few weeks, and I now have almost 7000 individual songs in my library. When playing them randomly, I often find the anticipation of the next song more interesting than the currently playing song.
But, of course, I have my favorites. I like some songs because they're great, but as often as not, reason is clouded by sentimentality. Here are my top twenty-five selections, in no particular order (because they're all different).
The Groups
Blondie (Fade Away and Radiate, 1979, witten by Chris Stein) - For six months starting in 1978, I worked for IBM in Sterling Forest, NY as part of a college internship program. This was the first time I drove more than a couple miles to work on a daily basis. I listened to Jay Thomas on WABC radio every morning. Jay would eventually leave radio for acting roles including Remo Da Vinci on Mork & Mindy, but in 1978-79 he was my radio guy, telling goofy jokes ("zodiac", that's a person who steals zodes) and playing Blondie's Heart of Glass (written by Debbie Harry and Chris Stein). Along with Dire Straights, it's Blondie I recall hearing so much back then. I was twenty years old and living close enough to New York City that I figured, hey, Debbie Harry might call me some day to hang out. She never called. Maybe I missed the call, pre-cell-phone and pre-voice-mail. So, I married someone else. In any case, there are few artists/bands that attracted me enough to buy more than one album; I bought three Blondie albums, and thus was I introduced to New Wave. I like Atomic (written by Debbie Harry and Jimmy Destri) more than FAaR, but FAaR is on the earliest album. By the way, I owned multiple Beatles albums and there is lots of Beatles music in my library, and I have seen Paul McCartney live but never Debbie Harry, but the Beatles didn't make this list.
Little Mermaid soundtrack (Kiss the Girl, 1989, written by Alan Menken and Howard Ashman) - When my kids were little, I rejoiced every time Disney released a new movie. My kids were really good at movies; they took their popcorn and sat down and didn't get up to go to the bathroom a million times. No Disney movie really surpasses Snow White, but I was totally blown away by the music of Little Mermaid, especially Kiss the Girl.
ABBA (Slipping Through My Fingers, 1981, written by Björn Ulvaeus and Benny Andersson) - OK, on the coolness spectrum, ABBA is not on the cool end. However, I allowed myself to really enjoy ABBA. As I recall, I bought The Visitors album expecting typical disco, but it's not. It's the greatest album nobody bought. ABBA's songwriting had evolved into stories of mature adults, and STmF is an amazing story of parenting. No parent can listen to this without crying.
Happy Louie & band (Freddie's Apples, 1992, presumably written by Louie Dusseault) - While I was growing up (and beyond), my father listened to polkas on the radio in central New York. Family events in the '60s always included polkas. My father seemed to like this one, which features Polish language lyrics, and he translated a few words whenever it would play. At my second wedding, we marked a few polkas for the disc jockey, and this was the only one to be played.
The Girls
Ani Difranco (Fixing Her Hair, 1992) - Ani hails from Buffalo, NY, near my home in Rochester. She is a major presence in the world of independent recording artists. One of my male friends had heard of her and a show to be played in a small venue in Rochester in 1992, and he dragged me there. It happened to be my birthday, that day. So there we were, Don and I (in our mid 30s) in a room with a hundred young women, most of them probably under 20. Ani is an intense performer, but we talked to her after the show and she signed the cassette tape I bought of her "Imperfectly" album, "Happy Birthday Gary". This would become an item that impressed my kids and their friends a few years later as Ani made a name for herself. For a time, I played FHH in folk circles, and I always felt it kind of works when sung by an old guy.
Carolyn Arends - In the early 2000s, I heard Carolyn's cover of They'll Know We Are Christians (2000, written by Peter Scholtes) on my car radio. I am not very knowledgable about contemporary Christian music, but I liked the way Carolyn added a bit of a rock beat, and I found the CD. Carolyn's originals changed my impression of CCM; CCM can be transformational, not just a repetition of Christian cliches. Thinking it would be cool to see her live, I learned she lives in, ugh!, British Columbia. But, with God all things are possible, and in 2014 she played a summer festival in central Pennsylvania and I attended the event for the day. These festivals have lots of teens and their chaperones, and there I was with my gray hair. When I approached the merchandise tent where Carolyn was signing CDs, she recognized me from Facebook and called me by name. Later that day, she gave a lecture with music, and afterwards we talked about Taylor guitars. I love Something Out of Us (2009) and her well produced version of O Come All Ye Faithful (2014, written by John Francis Wade).
The Bangles (Walk Like an Egyptian, 1986, written by Liam Sternberg) - I suppose there are many songs I first heard while driving in my car. For this one, I was in a rental car in Palo Alto, CA, which was sort of cool in itself, and this song struck me (rightly) as a great hit. Years later, I would become interested in trading "bootleg" recordings of live concerts, and the Bangles' Amsterdam (Netherlands) show of 2003 is one of the best bootlegs of any band I have found.
The Runaways (Cherry Bomb, 1976, written by Joan Jett and Kim Fowley) - I became aware of Joan Jett via I Love Rock and Roll, like everyone else. I saw Lita Ford in a couple of music videos, back when MTV played music videos. Eventually, I heard bits and pieces of their stories, and was impressed with their hard work in the male dominated world of rock. A New Jersey friend introduced me to the older music by the Runaways. Joan's later band, the Blackhearts played a free show at the New York State Fair in 2006, so I grabbed a close-up seat a couple hours before the start and even recorded it.
* Blues rock honorable mention:
Samantha Fish (Road Runner, 2015) - the newest song in my list. I really do listen to new music.
Lesley Gore (You Don't Own Me, 1963, written by John Madara and David White) - Considering when it was recorded, this is a great song of female empowerment, but ha ha, written by two men.
Petula Clark (Downtown, 1964, written by Tony Hatch) - In those days before malls, one shopped downtown. Downtown was special. It's where you saw Santa Claus, and movies. You took a bus to get there. Downtown was cool, and my first favorite song.
Dolly Parton (I Will Always Love You and Jolene, 1974) - According to some web pages, these two songs were written on the same day. The impressive thing about Dolly is that she writes much of her material, rather than just recording songs written by others. I learned to play both of these songs. Jolene, however, depicts the singer asking another woman not to come between the singer and her man, so I adjusted the words to depict a man admitting his weakness and asking Jolene to let him be.
Eydie Gormé (What Did I Have That I Dont Have, 1966, written by Alan Jay Lerner and Burton Lane) - I came to appreciate Eydie later in life as music became easily available via the internet. I don't recall exactly when I heard WDIHTIDH for the hundredth time and was struck by how great it is. It starts out quiet, but sneakily grows into a power ballad. I listen to Eydie a lot on last.fm. I came to love a few standards by other artists*, but WDIHTIDH is the great one.
* Honorable mentions:
Vicki Carr (It Must be Him, 1967, written by Gilbert Bécaud);
Dionne Warwick (Trains and Boats and Planes, 1966, written by Burt Bacharach and Hal David);
Judy Garland (practically any song). While I can't live without Judy on the whole, there is no one song that makes my top 25, so Joots gets this honorable mention under Eydie.
The Boys
The Gocek boys - I (Gary) am active in the local folk music community and have written songs. I have never recorded in a studio, but there are some live recordings. At a workshop in 1999, I wrote Karen Crying and couldn't stop crying myself. My sons are also musicians, and we formed a band named the Sue-Tones for a one-time show at my second wedding reception (also with Gerard Weber and Ross Bracco). We remember the time the cops stopped a rehearsal in the garage (too loud). Afterwards, we did the best we could to soundproof the basement. I found one of Dan's bands (The London Hate) on last.fm (Dan as vocalist), and I'll single out I Put Baseball Cards in My Spokes for Effect (c.2003) because it has a cool name. I have some homemade recordings of Greg playing drums with a band called Never August. I'll mention Blanket (c.2000), but I could never make out the words of those hardcore bands. Probably just as well.
John Bull (The King's Hunt, c.1600) - We used this piece, typically played on the harpsichord, as the groom's entrance music for my second wedding. I grew up playing French Horn and listen to a lot of classical music, so I figured I should include something in this list. I guess I find it hard to compare Beethoven's 9th with any of the 3-minute wonders in this list.
* Honorable mention:
Julius Fučík and Louis-Philippe Laurendeau (Thunder_and_Blazes, 1897).
Jesse Winchester (I'm Gonna Miss You Girl, c.1987) - Michael Martin Murphey made the popular recording in 1987 and there are recordings by Jesse. I play this a lot in folk circles. Jesse's songs were recorded by a wide range of singers.
Sandpipers, not the easy listening group (Mighty Mouse, c.1955) - In those halcyon days of three and only three TV channels, programming tended to be family friendly, but Saturday morning was the time for children. I remember waking up around 7 am to watch an hour of Westerns while riding my hobby horse, followed by a couple hours of cartoons, or however long I could watch before my neighborhood friends came a-calling. There were great shows with great theme songs, like The Jetsons, H.R. Pufnstuf and Looney Tunes. But, for me, Mighty Mouse was my favorite show.
* Honorable mention:
The Fleischer family (Popeye, 1933 and through the 1950s) - I have spent some time researching the amazing music of the Popeye cartoons. The fighting and sexism would be politically incorrect these days, but the soundtracks offered a cornucopia of the popular music of the times. Every episode was like a mini-musical. Sammy Lerner's famous 1933 theme song is just a tiny piece.
Tom Paxton (Marvelous Toy, c.1960) - I was working for Xerox Corporation as email first became available. In those days, Xerox supported some non-work discussion groups. I recall asking about a song I vaguely remembered from my childhood, with pops and buzzes and such. One of the responders correctly pointed me to MT. Every man should remember his childhood toys this way. As a performer, I have played one (just one) guitar/vocal set in my life for money ($40), in 1994, and I included this song with help from my sons Greg (age 10) and Dan (age 8). In 1996, I attended the "Swannanoa Gathering" music workshop, and was thrilled to take a songwriting class from Paxton.
Maynard Ferguson (La Fiesta, 1974, written by Chick Corea) - These days, I focus on folk music and guitar playing, but I was a French Horn player in grade school in the 1970s, and all us brass players in those days loved Maynard. He used to play the high school circuit and came to central NY more than once, but I never saw him live until the early 2000s in Rochester. He signed my CD.
Stan Getz-João Gilberto (The Girl from Ipanema, 1963, written by Antônio Carlos Jobim, Vinicius de Moraes and Norman Gimbel) - As I mentioned, there were a few weeks during which all I did was rip CDs, including dozens and dozens of my lovely wife's movie soundtracks and greatest hits CDs. So uncool, right? But then, there it was, this 1960s jazz treasure, cooler than any recording I ever bought myself. I am humbled by my wife's coolness.
John Spillane (Dunne's Stores Girl, 2009) - I had been listening to Larry Kirwan's Celtic Crush show on satellite radio, and Larry played DSG and I thought it was great. A few weeks later, I heard it again and looked into the subject. "Dunne's Stores" is a retail chain of stores in Ireland that sell a wide range of everyday products and groceries, sort of like Walmart, but I get the impression the Irish stores are smaller. It's the kind of retail chain you hate, but you shop there anyway because you can get a screwdriver and a potato under one roof. And really, when you think of these large chains, do you think about how much you love the employees? No, you don't, and Spillane gives us a song that sounds sincere, but is viciously sarcastic, as he sings his praises for a DS girl.
Whole Lotta Rosie (AC/DC, 1977, written by Angus Young, Malcolm Young and Bon Scott) - There is no personal or sentimental value of this song, for me, and I'll leave the research about its history to the reader. Suffice it to say, no one should be proud to like this song. But, it's a whole lotta rock and roll.
* Rockin' honorable mentions:
Alejandro Escovedo (Castanets, 2001)
George Thorogood and the Destoyers (Bad to the Bone, 1982)
Deep Purple (Burn, 1974)
Bottle Rockets (I'm Not That Kat Any More, rec. 2002, written by Doug Sahm)
Tom Waits (Jersey Girl, 1980) - I first heard JG on a live recording from Bruce Springsteen. I learned the song and played it in folk circles, and eventually learned it was written by Waits. Both Waits and The Boss are good at telling straightforward stories about real life and having them come out like poetry. In 1998, I took the kids to Belmar, NJ, mostly to play on the beach and boardwalk. With a few dollars in their hands, the kids ran off to the arcades. I was standing on the boardwalk and a group of giggling girls skipped by, talking excitedly with the Jersey accents. Admittedly, I haven't spent any time with the "girls on the avenue," but at that moment I got the "Jersey girl" part, about a mile from E Street.
Little Steven and the Disciples of Soul (I Am a Patriot, 1983) - The same Don who dragged me to the Ani Difranco show also dragged me to a performance of the Burns Sisters, a folk group from Ithaca, NY. They sang IAaP, and we asked them about it. They told us they heard it on a Jackson Browne album. I got the album and found the song was written by this Little Steven guy, who turns out to be Steven Van Zandt of the E Street Band. Browne's version is OK, and the Burns Sisters rule, but Stevie's reggae version beats them all.
Bruce Springsteen (Fire, 1977) - I first heard this song covered by the Pointer Sisters, and I remember being bluntly informed by a college dormitory neighbor (a New Jersey native) that it was written by the Boss. At the time, in the 1970s, I knew who Springsteen was, but really, there is no one song that makes him stand out. But, over the years, I came to enjoy the E Street Band, and got tickets to a show in Buffalo in 1999. Well, that cemented the love affair. Even though there is no string of #1 hits, the live concerts are amazing. The "Sue Tones" sang Fire at my second wedding reception.
The Crooners - Frank and Nancy Sinatra's recording of Something Stupid (1966, written by C. Carson Parks) is the greatest recording of all time. Here's my logic: Dean Martin was so cool, he didn't care if anyone thought he was cool. Frank Sinatra was cool, but he needed everyone to confirm it, and Frank would have his mob friends whack anyone who didn't grovel at his feet. Frank made a groundbreaking "theme" album featuring In the Wee Small Hours of the Morning (1955, written by David Mann and Bob Hilliard), but the narcissistic coolness is evidenced by never singing "I", only "you" (as in, "You think about the girl.") Frank loved himself too much too fall in love with anyone else. Finally, Ava Gardner broke Frank's heart and then Frank had kids. In SS, Frank forgoes the narcissism and admits he's the one being stupid. Dean (c.1962) and Frank (1962) each recorded My Kind of Girl (written by Matt Monro), but Dean ends with "I'm her kind of boy", while Frank is too narcissistic to end like that. And, a shout out to my favorite Dino recording, Ain't That a Kick in the Head (1960, written by Jimmy Van Heusen and Sammy Cahn).
* Honorable mentions:
Bing Crosby (Where the Blue of the Night Meets the Gold of the Day, 1931, written by Roy Turk, Fred E. Ahlert and Bing Crosby) - This was a favorite of my grandfather. Bing isn't exactly "cool", and I never understood how he and Bob Hope and Danny Kaye got leading-man roles with hot actresses, but he defined a sound.
José Feliciano (Feliz Navidad, 1970) - Oh come on, how can you not love this song?
Bonus Tracks: Songs I Hate to Love
Meredith Brooks (Bitch, 1997, written by Meredith Brooks and Shelly Peiken)
Connie Francis (Where the Boys Are, 1960, written by Neil Sedaka and Howard Greenfield)
Samantha Fox (Touch Me, 1986)
Partridge Family (I Woke Up in Love This Morning, 1971, written by L. Russell Brown and Irwin Levine)
Bay City Rollers (Saturday Night, 1973, written by Bill Martin and Phil Coulter)