897th links: FRONT PAGE ... 897/3562 History ... Camp Lee ... Camp Shelby ... Louisiana Maneuvers ... Camp Murray ... Train Trip ... Camp Young ... Palm Village ... Camp Haan ... Yanks in Britain ... Normandy Hedgerow Cutters ... Battle of Stavelot ... Europe ... Way it Was ... WWII Memorial Dedication ... Blog ... Other WWII Stories ... Notes and Contacts ...
gocek.org links: gocek.org ... Christian Symbols ... Ticket Scams ... Financial Calculator ... Football Pools ... Captain Kangaroo ... Webcam ... Blogs ... Statistics ... Terms of Use ... We're glad you're here!
The History of the 897th and 3562nd Ordnance Heavy Automotive Maintenance Companies
1941-1945 - 1941 Louisiana Maneuvers
1941 Louisiana Maneuvers
Apparently written by BJ (Ben) Noster for the 897th Ordnance Association's 15th reunion, September 16-18, 1993, in Henrietta, NY.
The 1941 Army maneuvers took place in two sections of the country – first in Louisiana followed shortly afterwards in the Carolinas.
On August 27, 1940, Congress authorized the Ward Dept. to call up nearly 300,000 Guardsmen and Reservists for 12 months of federal service. Three weeks later the Selective Service Act cleared Congress, empowering the Army to draft up to 900,000 men, also for a year's service.
From the outset, efforts to create a combat ready Army encountered numerous difficulties, that of imposing a uniform training program where none had existed before. In spite of difficulties a formulated training program was implemented.
The soldier who entered the Army in 1940-1941 began his training with a mobilization training program (MTP) that lasted about thirteen weeks. Training began with several weeks of basic training which included physical conditioning, introduction to military knowledge and discipline, map reading, sanitation, first aid, and close order drill. The second phase introduced the recruit to his service specialty and to function as part of a small unit.
To the Army's top command, maneuvers would provide an answer for the vital question; did the U.S. posses an Army capable of defending the nation in time of crisis?
In August of 1941, participating field units began to gather on the Louisiana maneuver grounds. At this time Gen. Krueger brought his ten divisions into the Blue assembly area north of Lake Charles.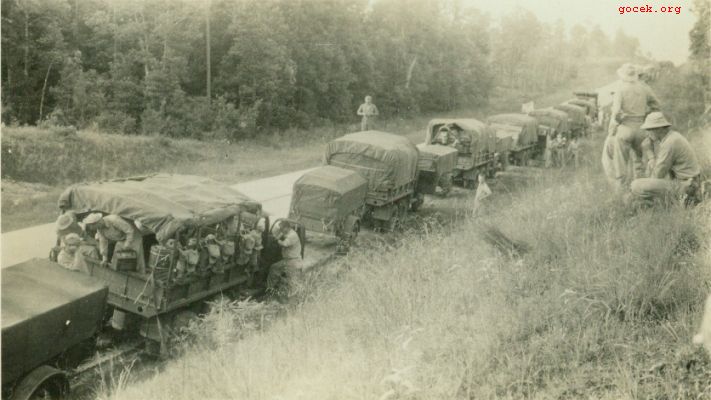 897th en route to Lake Charles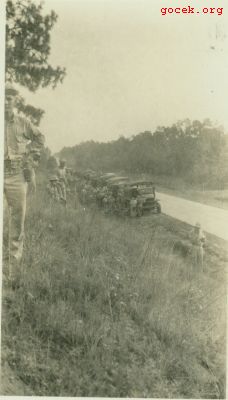 Courtesy Rich Hammond, grandson of Howard Hammond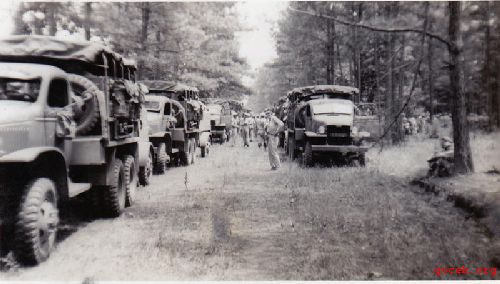 Courtesy Rich Hammond, grandson of Howard Hammond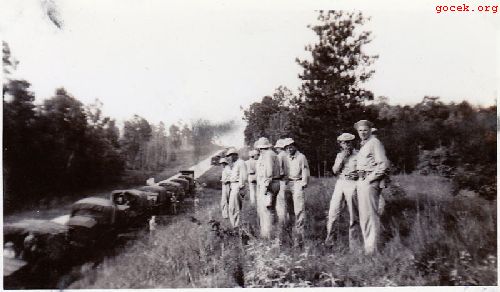 Courtesy Rich Hammond, grandson of Howard Hammond
After a month in garrison at Camp Shelby, the 897th departed on Aug. 4th, bivouacking the first night at the far end of the runway at the Baton Rouge airport. The next day brought us to Lake Charles, where we set up pyramidal tents the following day, after clearing out the primitive swamp area of copperheads, scorpions and water moccasins, etc. Cots and mosquito nets were provided for sleep. Shops were set up in a large warehouse and maintenance performed. Shops were also operated "in the field" in Crawley and Pitkin.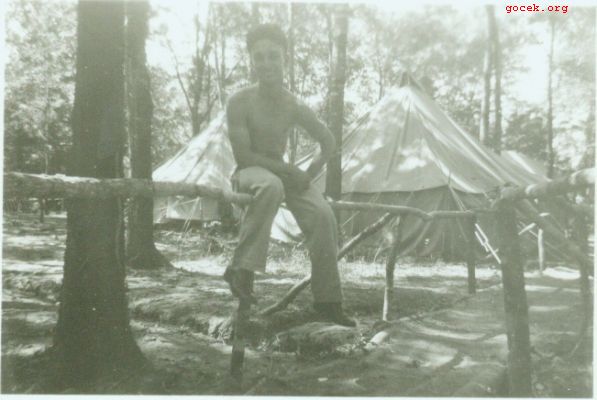 Encamped near Lake Charles (Gocek)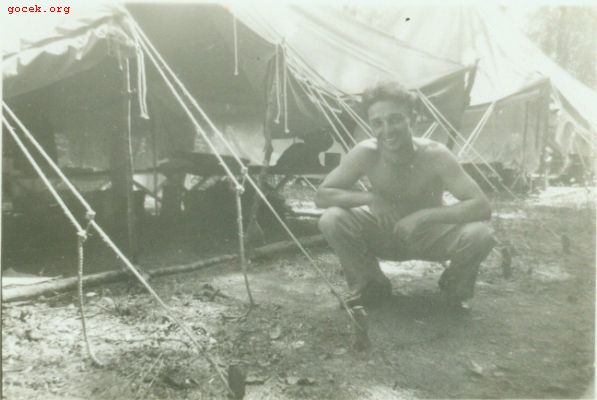 Encamped near Lake Charles (Gocek)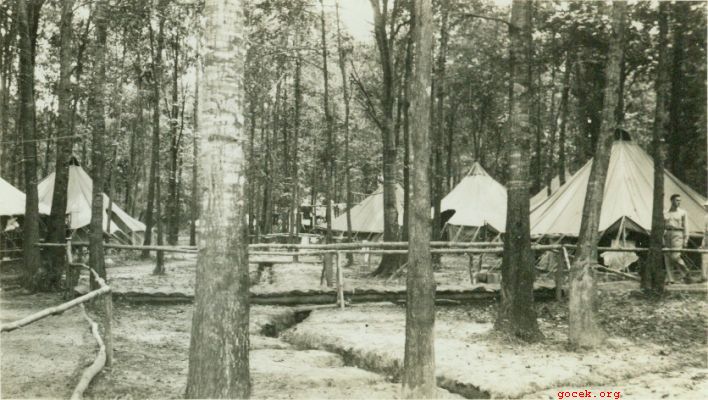 Encamped near Lake Charles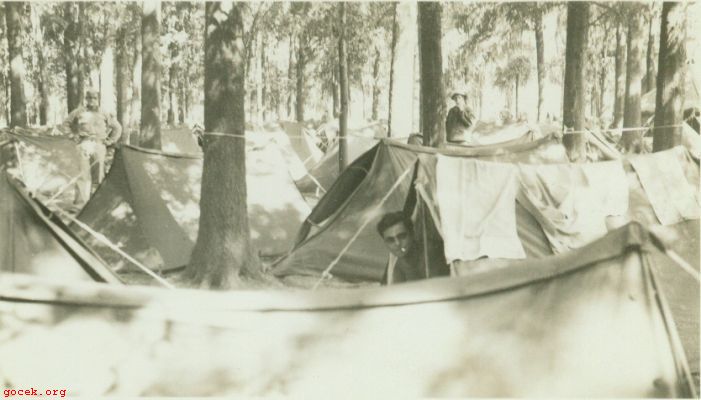 Encamped near Lake Charles (Crowley standing at left, Carfora in tent)
Maneuvers completed, the 897th returned to Camp Shelby on Oct. 9.
The Louisiana maneuvers consisted of two phases; phase 1 was the Battle of the Red River and phase 2 was the Battle for Shreveport. Phase 1 started on Sep. 15 in the midst of a tropical storm and torrential rain showers. Phase 2 started on Sep. 24 amidst the side effects of a powerful hurricane which grounded aircraft, flattened camps, and soaked troops.
The 1941 maneuvers helped the nation prepare for war; for the first time in the nation's history there existed a field tested nearly combat-ready Army before a declaration of war. Sixty one soldiers lost their lives in the Louisiana and Carolinas maneuvers and which cost the nation $20.6 million in expenses incurred. Additional compensation went out for damage claims for stolen melons, rutted yards, wrecked barrooms, drowned sheep, buildings damaged by tanks and fatal accidents involving Army and civilian vehicles.